RUTUS ALTER 71 V2.0 - ITALIA
importatore

italia
EURO 599 CON TUTTI GLI
copri vano batteria
copri display
marsupio porta reperti
zaino militare artiglieria alpina
pala da scavo artiglieria alpina
cuffia audio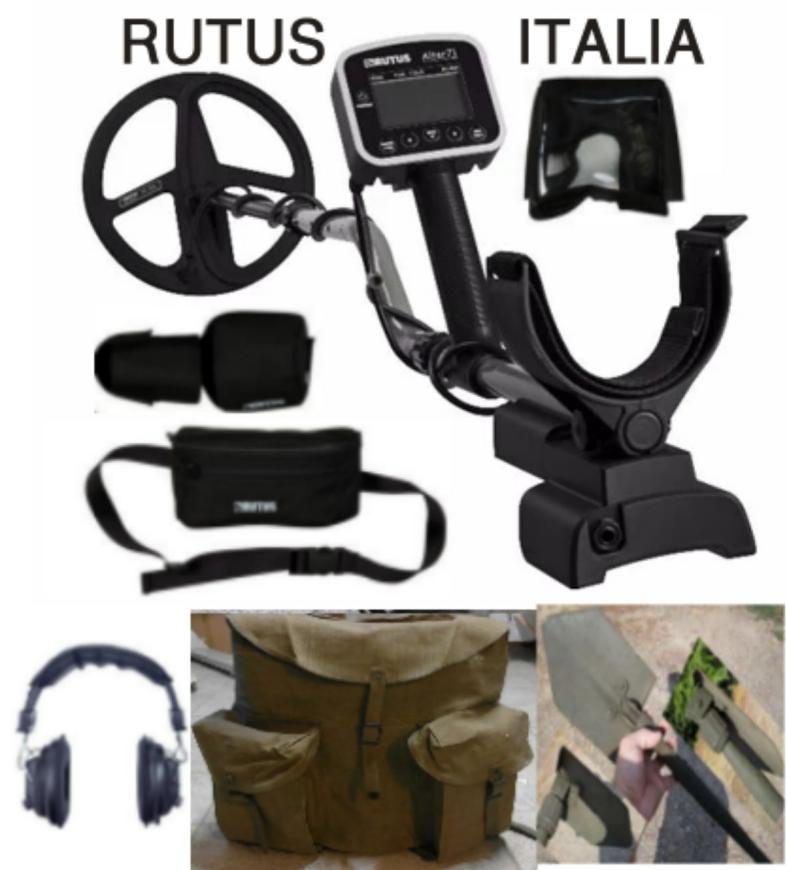 Il metal detector Alter71 e' un cercametalli a tecnologia elettronica intelligente
Il display completo con tutte le funzioni piu avanzate:
visualizzatore grafico
vdi per riconoscimento oggetto metallo
visualizzatore della frequenza primaria di utlizzo
visualizzatore della carica della batteria , anche retroilluminato
un regalo per voi e gli amici, ottimo per i ricercatori sia hobbisti che esperti
Settaggi di semplice utilizzo, agili a portata diretta, con pochi tasti si imposta al meglio, tutte le regolazioni appaiono sul display, compreso il tipo del metallo
Il metal detector Alter 71 ha 3 modi di ricerca:
motion a movimento continuo della piastra in discriminazione
non motion a ricerca statica senza dover spazzolare continuamente dx e sx con la bobina, in all metall
mixed : combinazione del motion e non motion per una ricerca ancora piu avanzata
e 7 programmi predefiniti di ricerca:
molto profondo,
profondo,
argento profondo,
modo di base universale,
monete,
ricerca veloce,
ricerca molto veloce.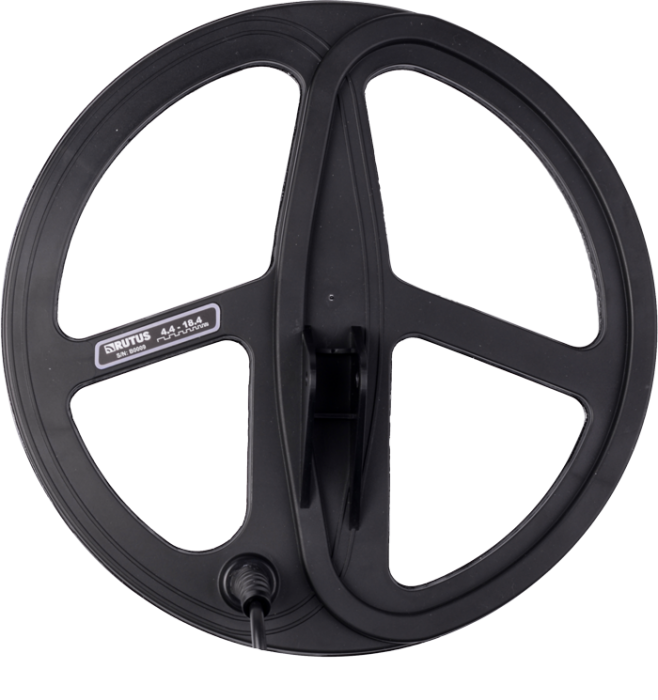 piastra di ricerca di serie da 28DD cm, orientabile, impermeabile con fissaggio a vite, mentre opzionale ce' la bobina
<< video manuale duso rutus alter 71 v2.0
MODULO SENZA FILI
per ascolare in cuffia il segnale senza avere connessioni a fili col metal detector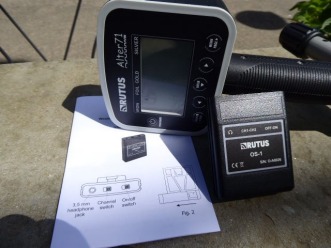 il modulo senza fili rutus per Alter71:
funziona con la batteria da 1,5volt durata di circa 12 ore,
come da disegno si intravede la presa jack dove ci va messo dentro lo spinotto da 3,5mm della cuffia audio, vanno bene cuffia di qualsiasi tipo universale che trovate nei negozi audio,
poi ce' il selettore di accensione e spegnimento ,
e il selettore dei canali 1 e 2 col quale si seglie lo stesso in accoppiamento dal menu del alter71 sotto la voce menu' audio prezzo euro 55 anziche 60
ENGLISH VERSION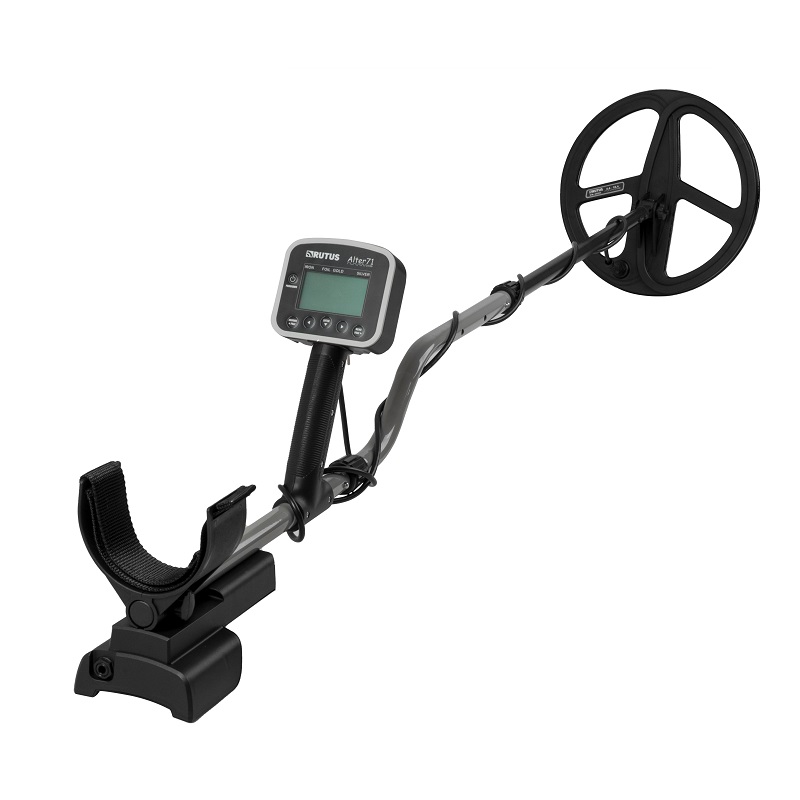 Rutus Alter 71
The detector is equipped with a radio transmitter digital data allowing such cooperation. With handsets or "wireless headphone jack." Digital transmission has been specially designed for this purpose so as not to introduce any delays. 6 battery "toes" (AAA) depends on the frequency and ranges from 20 to 50 hours.
The detector has the ability to work in a static mode, dynamic or so. mix - the dynamics of the "mixa" can go smoothly depending on the needs.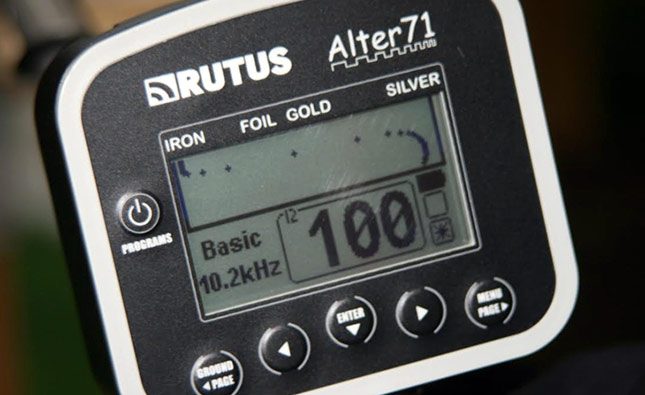 Graphic display, ID - 120 points, discrimination classical and selective, chart depending on the phase of the signal, automatically tuning to the ground speed control filters ground in a very wide range, the possibility of programming your own sounds, ranges, speed, separation and many other features make the it is a detector at the world level.
The detector has a completely new mechanical design and is lighter than our existing detectors over 200 g.
For the detector probe will be available both DD and concentric.

Regulatory elements:
Discrimination selective 120 points
Operating frequency of 4.4 kHz to 18.4 kHz jump 0.2
magnetic stones
Response filters (groundwater) - 8 speeds to choose
Masking 7 levels
variable Tone signal
variable Sensitivity signal - regulation allowing for a smooth transition from pure dynamic work to "mix"
Strengthening Audio - regulation allows to change the sound characteristics of a dynamic channel and switch it off completely (we obtain in this way the work of a purely static)
variable Volume
three sound profiles to search for coins, three to "relics, and three freely programmable by the user
Wireless system - off, Channel 1, Channel 2
Backlight - 29 adjustable levels
Type of ID - true (depending on frequency), converted to 6kHz, converted to 12 kHz
Hold time - adjustable display time information about an object on the LCD.

The detector will be 7 factory programs: a deep, deep, large silver, basic, coins, fast, very fast. Factory programs offer a fairly wide cross-section of the possibility of the detector in search of various objects in different conditions. Each factory program can be modified to suit your needs - and the changes are saved when the power is turned off. In case the modifications do not meet user expectations - it is possible to reset each program to factory settings.

Included:
Alter 71 of the probe 28 cm DD cases sachet hip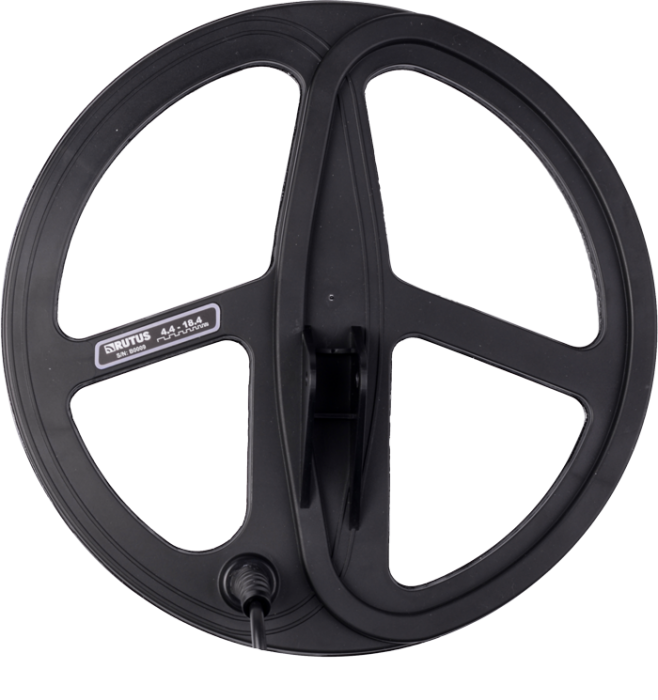 Tunable frequency range of 4.4 kHz - 18.4 kHz Stroke retuning 0.2 kHz
Correction reaction to magnetic stones
Adjusting the speed of response filters (groundwater) - 8 levels
Masking beeps - 7 levels
Level control lead
Tone control leading signal
Sensitivity adjustment leading signal
Strengthening audio Volume
6 default profiles sound + 3 freely programmable
wireless audio
adjustable backlighting
Type ID
Backup time information on the LCD
Discrimination 120 levels
Sensitivity 90 levels
Discrimination selective 120 points
Weight with batteries (6 AA cells) - 1630 g